This is 2023 and the world population relies on digital platforms for entertainment, purchasing products, and taking services. The world of marketing has shifted to the online landscape to promote products and services. Digital marketing relates to every form of marketing that exists online. This includes all types of channels and marketing practices that are done online to connect with potential customers.
What is Digital Marketing?
Digital marketing is about promoting different products and services through different channels and platforms with the right strategy and techniques. It is quite different from traditional marketing, it embraces the internet and digital devices to communicate and engage with potential customer base. The most common form of marketing approach includes social media marketing, SEO, Ads, email marketing, and more.
Digital marketing is about making efforts online to help a business grow and engage potential clients. With a little investment in marketing, modern businesses can get a better return and opportunity for growth.
Benefits of Digital Marketing for Businesses?
Digital marketing has become an essential tool to help businesses communicate with potential customers. Hence businesses are investing more and more in their digital marketing efforts. Let us know some of the most important ones:
Digital marketing is about promoting a business online, that helps you reach a global audience. With digital marketing, your business can reach a global audience without any limitations.
Compared with all other traditional methods of marketing, digital marketing offers you a more budget-friendly option. Digital marketing helps businesses grow with minimum efforts regardless of their size and location.
With digital marketing, businesses can access real-time data and analytical measures to track performance. You can measure expenses, leads, and KPIs, and make more informed decisions.
Digital marketing allows businesses to target a specific niche market and region. Targeting also allows you to tailor messages, boost conversion ratio, and reach potential audiences. You can also resonate your efforts and deliver content according to individual preferences.
This helps you gain immediate engagement considering various social media channels. People can see, like, comment, and share content that helps them establish communication between the potential audience and a business.
With the right digital marketing efforts, you can expect to get a high conversion rate. A business can effectively target customers, optimize campaigns, and deliver personalized content for better reach. This also enables a business to transform leads into sales and improve the conversion ratio.
Let us Know The Types of Digital Marketing
We already know how a business can get benefits from digital marketing. Now we are going to discuss the most important types of digital marketing for businesses.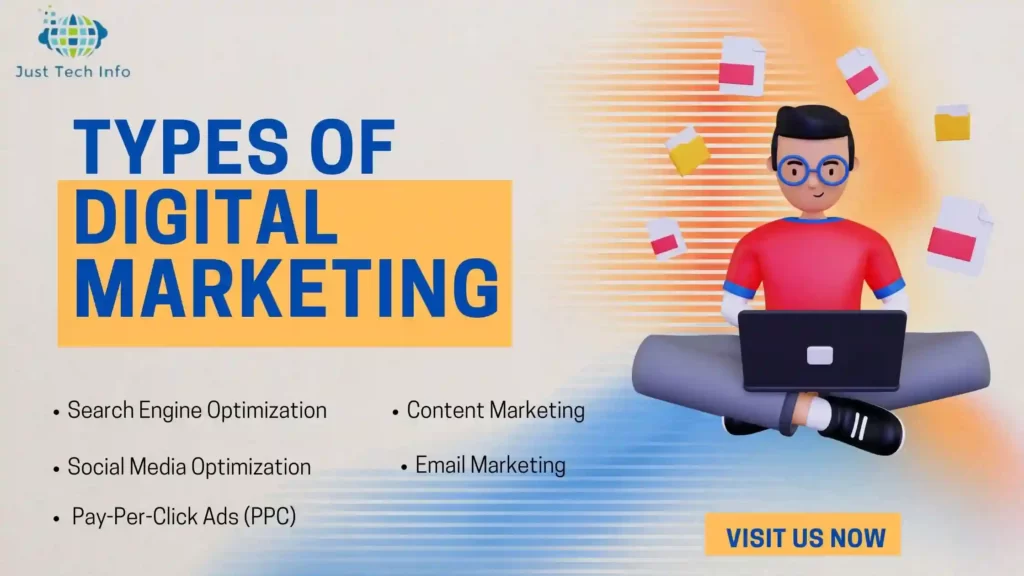 Search Engine Optimization
SEO is one of the most important types of digital marketing for businesses. It includes fixing technical issues of websites and implementing on-page and off-page strategies with the right efforts. Search Engine Optimization is very helpful to improve your website visibility on Google to potential customers. You can use preferred keywords for which your website will appear in the top results in SERPs.
This is related to the efforts of digital marketing efforts for a business and content works as the backbone. A well-documented strategy for content marketing can help a business engage, inform, and entertain potential buyers. The most common types of content marketing strategies include blogs, articles, videos, podcasts, and more.
Social Media Optimization
Social media channels are the biggest medium of entertainment for people. The most popular social media platforms include Facebook, Instagram, Twitter, LinkedIn, and more. You can utilize both organic and paid approaches to distribute content and market your products and services. This helps customers to easily interact with your products and services through likes, shares, and comments on social media.
Email marketing is about sending alerts and offers to your potential contacts through email. It is an effective way to establish communication with the audience regularly. This is a useful tool to help businesses improve subscribers, onboard new customers online, and promote offers.
PPC is the most effective approach to bringing new customers to your business easily. Pay-per-click allows you to get quality leads, drive traffic to websites, and get more conversions. You can set bids for your targeted keywords and get relevant ranking on Google's SERPs. Other mediums of PPC marketing may include ruining ads on Facebook, Instagram, and Twitter. 
Embrace the Digital Revolution
Digital marketing is the most prominent approach for businesses to reach a wider audience and improve sales by leveraging digital channels. With the right efforts and strategies, businesses can connect with customers, drive sales, and grow online. Every digital marketing approach has its own advantages to help a business grow. So, embark on your digital journey with the right mix of marketing strategies and set your success path in this digital age.