Audio merger is a tool to combine multiple audio files into one. The common audio file includes MP3, WMA, AMR, WAV, OGG and so on. In general, these audio types are supported by many audio mergers, which can allow you to merge audio according to your needs.
Have you ever merged several audio files? In what situations you did this operation? I guess these are the two most commonly seen scenarios:
When you intend to make a piece of background music, you may choose some favorite songs and merge them together.
2. If you want to play a song after the previous one without intervals, you may need to merge them into one.
To help you accomplish this work successfully, I'd like to introduce some popular audio mergers for both desktop and online. Just keep reading on.
Part 1 – 6 Best Audio Mergers
Don't worry even if you are not experienced in it. In this part, 6 wonderful audio mergers will be displayed, which will enable you to merge audio files just with a few clicks. Here we go.
1. MiniTool Movie Maker
MiniTool Movie Maker is a free and clean audio merger, which support many commonly used audio formats for desktop. Except for an audio merger, it also can split, edit, cut a trim audios. By using it, you have more possibilities to manage your audio files.
Features:
·Totally clean without ads or bundled apps.
·Support audio file formats.
·No limitation on size or number of audio files.
·Support changing audio order.
·Merge audio files without quality loss.
Con:
Only Windows 10/8/7 are supported.
2. Audacity
As a free audio merger for desktop, Audacity can also help you edit multiple audio files formats. With it, you can merge multiple audio files together easily to create a long audio recording or song. What's more, this audio merger is compatible with not only Windows but also Mac OS X, Linux and some other operating systems perfectly.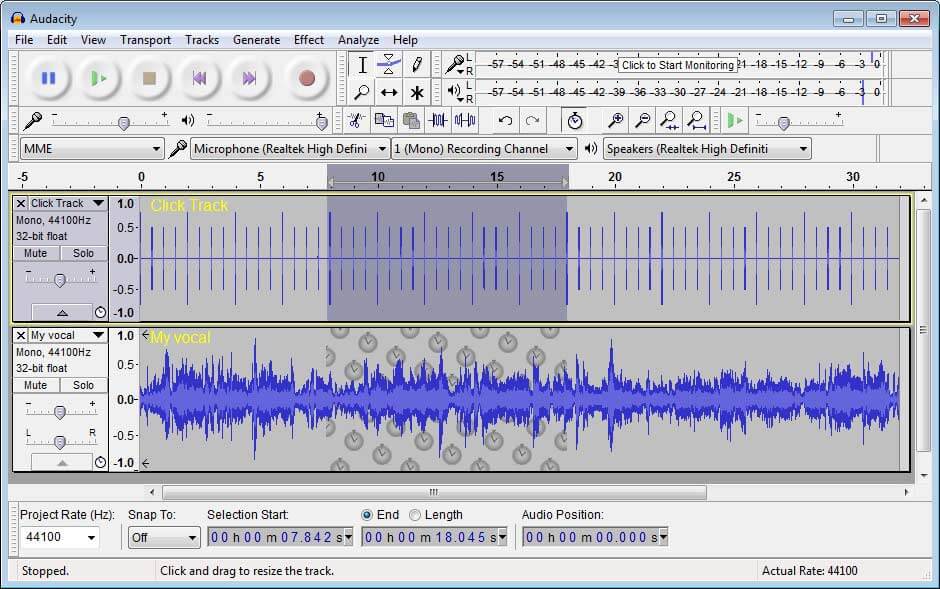 Features:
·Totally free and easy to use.
·Compatible with multiple operating system.
·Record new audio file via mobile phone.
·Allow you to control the speed and tempo.
Cons:
·Unableto publish and share audio files.
·Some bugs exist.
3. Wavepad
WavePad is another audio merger that allows you to process plenty of audio files for desktop. With it, you can delete, insert, compress and trim audio files automatically. Like many audio mergers, all common audio formats can be handled.
Features:
·Have built-in burning option.
·With numerous filters and effects.
·Present a straightforward concise interface.
Con:
Plugins are not available in the free version is limited without supporting plugin.
4. Audio Joiner
Audio Joiner is an excellent audio merger online, especially for beginners. To your surprise, it supports more than 300 audio types with crossfade features. In addition, all uploaded audio files will be deleted within several hours after finishing merging. So, there's no need to worry about privacy legacy.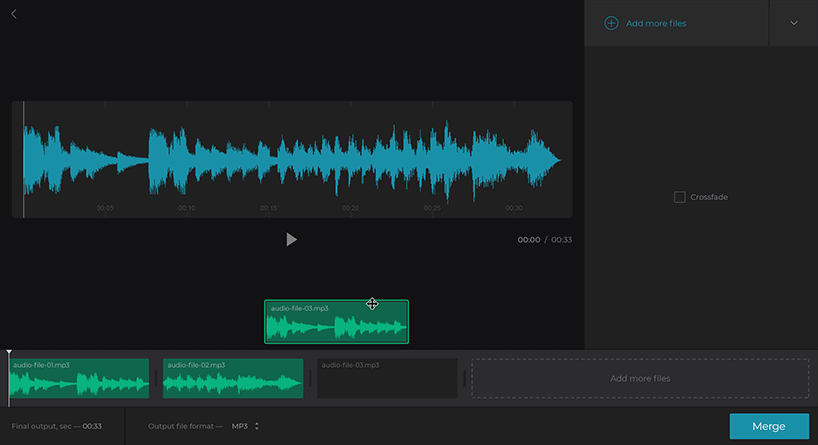 Features:
·Use it free without installing.
·Over 300 audio file formats are supported.
·Support adding numerous audio files at the same time.
Con:
Network status affects Upload speed will be affected by network status.
Part 2 –Information about Common Audio Formats
Audio files are various in daily work. They can be divided into 3 categories. It will help you choose the suitable audio format after understanding them.
Lossy Compression Audio Formats
Lossy compression indicates suffering sound quality and audio fidelity loss for smaller file size. But you won't find the difference if it's processed well.
MP3:MPEG-1 Audio Layer 3, developed in 1993, is the most popular audio format for music. So, nearly all digital devices coming with audio playback can read and play MP3 files.
AAC: AAC represents Advanced Audio Coding, using a more advanced compression algorithm than MP3 format. It is a standard audio compression method adopted by many devices, such as Android andiOS devices, YouTube and iTunes platforms and Nintendo laptops.
Lossless Compression Audio Formats
Audio files with Lossless compression format are created with reducing file size but no data loss. Therefore, the size of lossless compressed audio files bigger than that of lossy compressed audio file. FLAC is a representative.
FLAC(Free Lossless Audio Codec) was released in 2001. With it, the original file can be compressed up to 60% without any data loss. What's more, it is an audio format of open source and royalty-free. Don't worry the intellectual property restrictions.
Uncompressed Audio Formats
Uncompressed audio is the real sound wave that has been recorded and converted to digital format without any processing. Common uncompressed audio formats include WAV, PCM and AIFF.
WAV: WAV, short for Waveform Audio format, is a widely used uncompressed audio format introduced by Microsoft and IBM in 1991. It's mainly applied to CDs to store recording.
PCM: PCM (Pulse-Code Modulation) is the digital symbol of raw analog audio signals. It is a very commonly seen audio format used in CDs and DVDs.
AIFF: AIFF, abbreviation of Audio Exchange File Format, is used for Mac system in 1988. It consists of many audio formats. Uncompressed audio formatted in PCM can be seen in most AIFF files.
Final Words
After reading all introductions about the 4 audio mergers and common audio formats, you may have a general understanding of them. Now, choose one on basis of your situation to begin your work.
Except for merging audios, you can manage and edit your audio files easily by using these tools. If you are not skilled at this work, please check this tutorial–How to Merge Audio Files.